Nike made a Christmas Day Collection of shoes. Kobe Bryant, Lebron James, Kevin Durant and Amare Stoudamire wore their signature basketball shoes on Christmas day. The new kicks have Christmas colors to celebrate the holiday.
I don't know if you could really wear these on the court. It's colors are really vibrant. Or maybe it's their strategy to distract their opponents. 
No worries, these shoes have the regular version with same features but less striking colors. Here's a comparison.
KEVIN DURANT'S ZOOM KD IV
CHRISTMAS:
Strapped, metallic copper with black prints and red shoe lace. It has a lighting thread sole.
*** I find it classy.
REGULAR:
Black with blue and orange (color of his team, Oklahoma City Thunder).
Also comes in a Weatherman version and a Nerf version.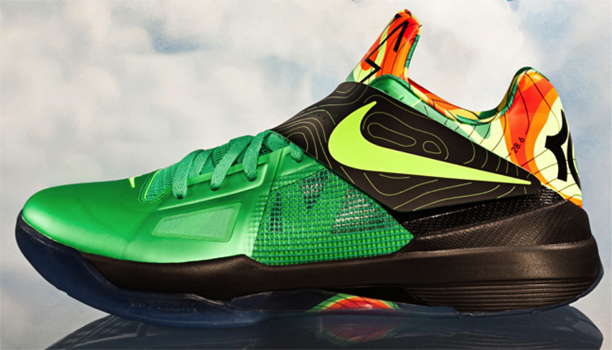 *** I love the Nerf! It's very colorful. My favorite version. People should wear this when playing laser tag.
LEBRON JAMES' LEBRON 9
CHRISTMAS:
Red with green shoe lace. It has a flywire system and a midfoot harness. It also has a padding on the side.
REGULAR:
Black with hints of red and white. Colors of Miami Heat.
***I find it unique because of the padding at the side.
KOBE BRYANT'S ZOOM KOBE VII SYSTEM
CHRISTMAS:
Neon colors. Green and violet with red shoe lace. They say it's inspired by a leopard (you can see the leopard print) and a shark. It has a wrap-up strap and flywire cables. 
***Barney the dinosaur's colors! Hahaha! I like the colors but if I was on the court with Kobe, I'd be blinded by these.
REGULAR:
Black and yellow and white. 
***Bumblebee themed! This should be the official Juniors' shoes! HAHA! Black and Yellow! :))
AMARE STOUDEMIRE'S AIR MAX SWEEP THRU
CHRISTMAS:
Green with red and white midfoot strap.
REGULAR:
Black and grey.
***Batman themed! :))
Those are the Christmas and regular versions of Nike's signature shoes. I think that the regular versions are more appropriate in the court. The people's attention should be on the game and not on the shoes. While the Christmas version are for casual attire— for parties, malls, fashion shows.